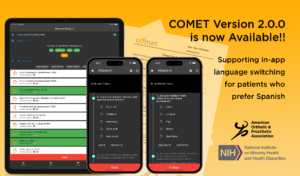 P&O COMET is available NOW, download from the Google Play store or App Store for iOS devices.
The Clinical Outcome Measures Electronic Toolkit (COMET©) provides a library of useful clinical outcome measures for prosthesis and orthosis (P&O) users and practitioners. COMET simplifies and standardizes the use of outcome measures in daily clinical practice to inform evidence-based clinical care. Practitioners using COMET are able to easily select the appropriate measure, administer a test, and immediately receive the result.
Using COMET, practitioners can:
Justify and document effectiveness of P&O treatments
Select and set order of outcome measures to complete
Allow patients to complete outcome measures in English or Spanish
Easily record and score treatment outcome measures
Store patient records in password-protected database
Export PDFs to include in medical records
Contribute patient outcomes to the Limb Loss and Preservation Registry
Using it is easy! Start by selecting one or multiple outcome measures for your patient to complete. After your patient completes the measures, COMET instantly calculates the scores and automatically generates a results report that can be exported as a PDF for inclusion in the electronic patient health record or where external documents are supported or needed. Patient records can be stored in a password-protected, HIPAA compliant database for easy retrieval of prior results.
It includes timed metrics such as the Timed Up and Go, patient-reported outcomes such as the Socket Comfort Score and Lower Extremity Functional Scale, and surveys such as the Patient Satisfaction Questionnaire. For patients who may prefer the Spanish language, a portion of the outcome measures are now available in Spanish.
The Limb Loss and Preservation Registry (LLPR) is now accepting outcomes recorded in COMET. The results stored in the COMET patient database can be exported to files compatible for upload to the LLPR. To learn more about the LLPR, visit https://www.llpregistry.org. For questions or to participate, contact: info@llpregistry.org.
© 2021-2023 Orthocare Innovations, LLC.
COMET was developed by Orthocare Innovations, LLC. Financial support for this project was received through Center for O&P Learning (COPL) pilot grants, funded by the American Orthotic and Prosthetic Association (AOPA) in addition to internal research and development support from Orthocare Innovations, LLC. Multi-lingual support in COMET was supported by the National Institute On Minority Health And Health Disparities of the National Institutes of Health under Award Number R43MD018240. The content is solely the responsibility of the authors and does not necessarily represent the official views of the National Institutes of Health.